The demand for electric vehicles is on the rise. EV makers around the world are looking at possible design enhancements to improve the consumer experience. The performance of the motor is one of the criteria that consumers are looking for. How does a manufacturer achieve that?
An EV Traction motor has to attain high speed in a very short time. This demands the motor to have high power output with ample facilities to dissipate the heat thus generated. At the same time, it has to be compact enough to fit inside the vehicle chassis. And added to that, not to compromise the EV range, torque and acceleration.
The major component of the traction motor design that influences these factors directly is the winding wire or magnet wire.
Winding Wire or Magnet wire for EV motors
To achieve the special needs of traction motors, the magnet wires need to be compact, have high power density and withstand high voltage. Often, Enamelled Round Copper wires and Enamelled Rectangular Copper wires are used in EV motors.
Let us see in detail the advantages and disadvantages of both to see which is best suited to increase EV Motor performance.
Enamelled Round Copper Winding Wires for EV Motors
Round copper winding wires are enamelled wires with circular cross sections.
Advantages of Round Copper Winding Wires
The design of round magnet wires is quite simple and is thus easier to manufacture. They are easier to handle and can be bent equally at all angles. This flexibility makes the coil insertion process easier. When compared to rectangular wires, round wires cost less. [Also Read: How to find the right pricing of magnet wires?]
But when coming to the specific need for traction motors, they fall short in some places.
Disadvantages of Round Copper Winding Wires
Round copper winding wires have lower power density. And since the surface area is less, the heat dissipation is also lower. Moreover, when winding the core, round winding wire won't give a high fill factor in the slots. This could make the motor bulkier.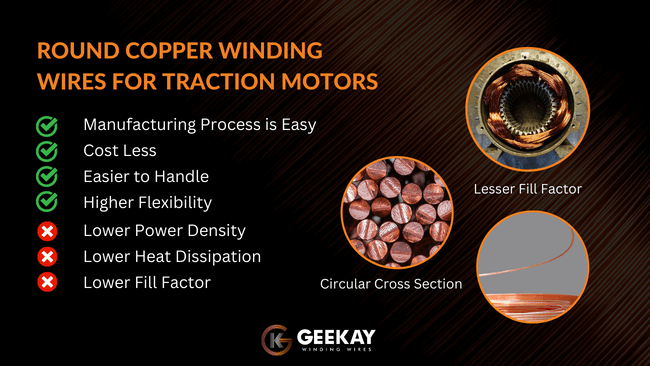 Now, let us see why rectangular magnet wires are a better option.
Enamelled Rectangular Copper Winding Wires for EV Motors
Rectangular winding wires have a rectangular cross-section. They are also commonly called flat wires or square wires.
Advantages of Rectangular Copper Wires
Rectangular magnet wires offer a better fill factor due to their stackability.  They make a highly compact EV motor when followed a hairpin or wave winding. Flat wires also support automated winding, making coil insertion easy.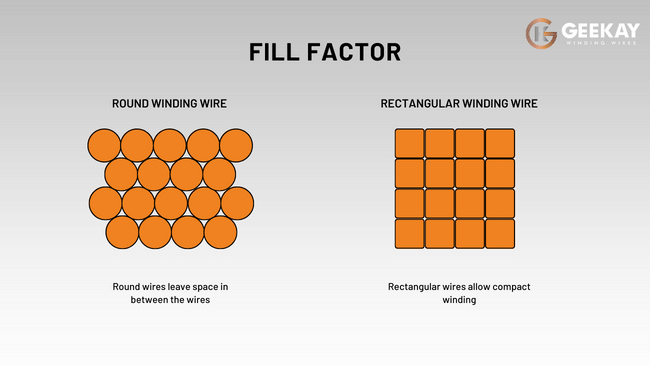 Since more copper wire is present in the same slot, they can provide better power density. This also enables them to generate the peak power needed for a traction motor. As the surface area of rectangular enamelled wires is more than round wires, they offer better heat dissipation.
Rectangular winding wires offer less electrical resistance due to higher cross-sectional area. This also means that copper loss is significantly lower in comparison to round wires.
Having said so, there are a few things which one needs to consider when using rectangular copper windings.
Disadvantages of Rectangular Copper Wires
The manufacturing of rectangular copper wire is a complex process. It takes a longer time and different types of machinery to make rectangular copper wire. Because of these reasons, they cost more as well.
Moreover, handling rectangular copper wires needs extra care as they can get twisted. The presence of sharp edges makes them highly susceptible to insulation damage. They are less flexible as they cannot be bent in all directions, making them prone to breakage during bending. [Also Read: Best Winding Practices to follow to minimise process rejects]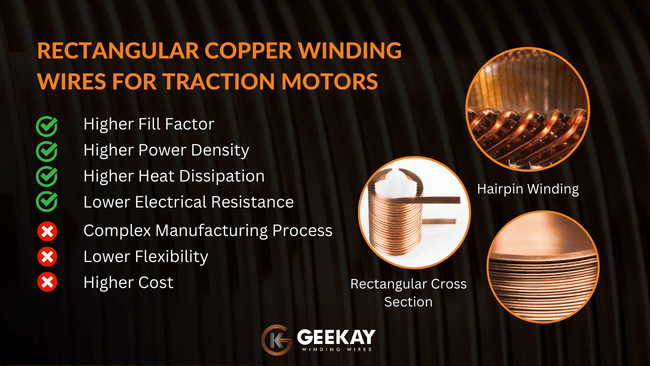 Here is a tabular comparison of the pros and cons of round and rectangular magnet wires for use in traction motors.
Rectangular wires vs Round wires in EV Motors
| | | |
| --- | --- | --- |
| | Round Wires | Rectangular Wires |
| Cross Section | Circle | Rectangle |
| Fill Factor | Low | High |
| Compact | No | Yes |
| Power Density | Low | High |
| Resistance | High | Low |
| Heat Dissipation | Low | High |
| Manufacturing Process | Easy | Complex |
| Flexibility | High | Low |
| Prone to Insulation Damage | Low | High |
| Winding Difficulty Level | Easy | Difficult |
| Cost | Low | High |
From these, it is evident that the higher power density of rectangular magnet wire results in better performance and higher power output needed for a traction motor. This in turn translates to improved acceleration and a longer range for EVs.
And all these reasons make rectangular copper wires the preferred choice for EV motors.
Choosing a Rectangular Enamelled Copper Wire Manufacturer
As mentioned earlier, manufacturing rectangular magnet wires is a complex process. Since the rectangular wire is not symmetrical at all angles like round wires, the edges of the conductor might break due to the difference in cooling. Similarly, when it comes to enamelling the drawn rectangular conductor, uniform enameling is not possible at higher speed.
Only experienced manufacturers with strict quality control can provide the best quality rectangular winding wires for your EV motors. [Also Read – 5 Tips to choose the right magnet wire supplier for your EV needs]
Geekay is an established enamelled copper winding wire manufacturer since 1975. Backed by this experience we are able to manufacture high-quality rectangular copper magnet wires that meet your specifications. Our infrastructure and expertise enable us to scale up the production capacity as per your needs.